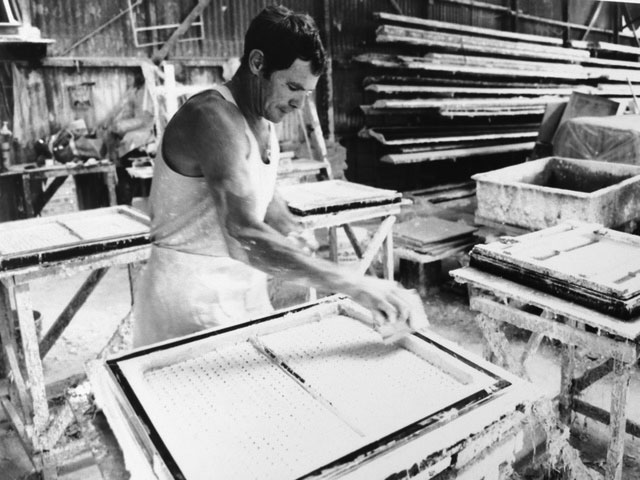 In 1938 Ernest Alfred Bailey established E. A. Bailey & Sons Pty Ltd in Boundary Road, Mortdale. The company began as a fibrous plaster manufacturing and installation company and for the first 20 years, it operated in the domestic housing market. At this time all components such as cornice, ceiling and wall sheets were made on the premises at 83/85 Boundary Road, Mortdale.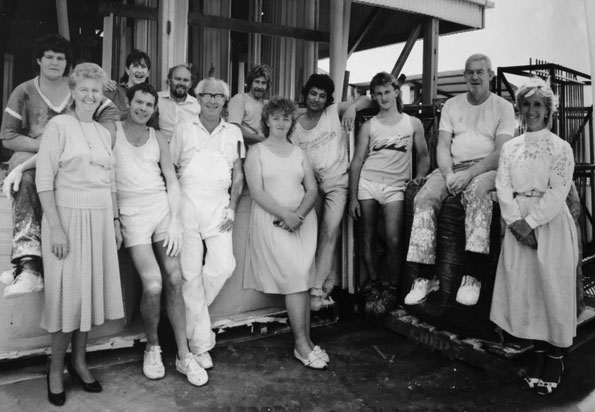 In the late 1950s, the business expanded its interests into commercial areas. It developed acoustic plaster tiles for suspended ceilings in office blocks and clubs and these tiles are still manufactured today, being popular for their decorative and acoustic qualities.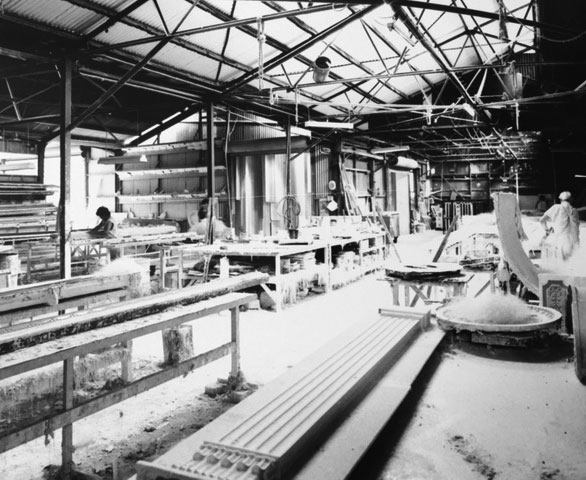 During the 1970s, the acoustic plaster tiles became our 'bread-and-butter' line. Equipment was designed and production techniques were refined which greatly improved efficiency.
In 1975, Roger Bailey (the grandson of the founder) joined the company. He brought with him accounting qualifications, outside business experience, youth and a grand vision for the business' future. In 1984, Roger Bailey became sole owner and Managing Director. The direction of the company began to change about this time, as there was a revival in interest in ornamental plasterwork driven by a restoration boom, and Art Deco was becoming popular. The ability of the company to manufacture products from architectural design plans ensured its viability and growth.
Bailey Interiors became known for their restoration work and were recommended by the National Trust.
The Company benefited from the building boom in the 1980s and undertook many major projects over the next 10 years.
These included:
• New Parliament House, Canberra 1982/1985
• OTC Telecommunications Centre, Sydney 1985
• Powerhouse Museum, Ultimo 1986
• MLC Building, Sydney 1989/1990
• Commonwealth Bank, Martin Place, Sydney 1990
• ANA Hotel, Sydney 1992
• The Theatre Royal, Sydney 1993
In 1988, the company name changed from E.A.Bailey & Sons to Bailey Interiors.

Following a number of overseas trips to Europe and the US, Roger Bailey broadened his experience and knowledge, which led to improved production techniques and ongoing product developments.

In 1998, with the installation of computers, the Company restructured into three business units:
•
Manufacturing
- the factory in Boundary Rd. specialised in handcrafted plaster products
•
Warehousing
- the sale of plasterboard and accessories to trade professionals and handymen
•
Fixing
- the installation of products for commercial and domestic work.
Over the years, Bailey Interiors undertook many notable projects and received many awards along the way:

1992-1993
• Building of a showpiece house at Hurstville Grove incorporating all Bailey's French design cornice and special dome ceilings.
• Gordon shopping centre - the original design called for timber panel ceilings. The cost was too high however, and we developed an alternative in moulded fibrous plaster. This halved the cost of the project and created a beautiful decorative plaster finish to the centre.
• Restoration of the Southern Cross hotel in Sydney featuring an elaborate dome with a chandelier in the centre area.
1994-1995
• Bailey Interiors becomes automated and builds the first overhead machine operated cornice production. Time is more than halved and quality is doubled.
• At the same time the company builds a new ceiling tile machine capable of producing 320 tiles per day as compared with one man making 100 per day by hand.
1996-1997
• Bailey Interiors wins a project at the Sydney Casino with Leightons to build one of the largest ceiling domes ever made in the Lyric Theatre. In the main gambling hall Baileys supplies 26,000 ceiling tiles.
1997-1998
• 22,000 plaster tiles are supplied to the BHP building in Melbourne.
• Bailey Interiors produces the plaster cornice (budget quality) called VRC range on the plaster cornice machine.
• Bailey Interiors wins and completes the Angel Place Recital Hall project in Sydney. This incorporates specially designed plaster work which is highly
decorative
, and offers significant
acoustical
and
fire rating
properties. The work is of such a high standard it is nominated for the Master Builders award.
1998-1999
• Bailey Interiors completes another masterpiece at the University of NSW. The design calls for a ceiling to replicate the look of 13 Italian Gondelliers, 12metres long x 3metres wide, hanging down from the ceiling, all made from moulded fibrous plaster.
1999-2000
• Bailey Interiors wins the Australian Wall & Ceiling Institute award for the 'most artistic plaster job' for a project completed at the Ingleburn RSL. The job consists of three very large ceiling domes that were made off site, transported to site and installed in two major pieces.
• A Buddhist temple is completed at this time that includes very elaborate plasterwork.
2000-2001
• 5000 sq metre plaster acoustic ceiling tiles are installed at Trinity Grammar School.
• Specialised ornamental plaster work is completed at Canterbury Hurlstone Park RSL.
• Major projects are completed at Granville RSL, St Mary's RSL, Eastern Suburbs Leagues Club and Brighton RSL.
• The total restoration of the Sydney Australia Hall ceilings, archways and walls is completed in the art deco design of the late 20s. This project wins the Australian Wall & Ceiling Institute award for the best plaster restoration for the years 2000-2001.
2001-2002
• Bailey Interiors wins a contract for the installation of plaster tile supply for the Church of Jesus Christ Latter Day Saints in the whole of the Pacific Islands with projects proposed in Samoa, Fiji, Tonga, Tahiti and New Caledonia.
2002-2003
• Bailey Interiors develops a range of specialised plaster columns for internal and external use. These products continue to prove popular.
2003
• Bailey Interiors wins the contract for the full restoration of St Patrick's Catholic Church in Parramatta, which was burnt down in the late 1980s. Again the workmanship is of an exceptionally high standard and the project is the divisional winner of the Australasia 'fibrous plaster and restoration work, commercial' award.
2003-2004
• Bailey Interiors continues to win prestigious new building and restoration projects including The Rose Bay Cinema - a 1920s period restoration.
• The company continues to develop new technology to improve the efficiency and quality of its manufacturing processes including the building of a specialised cornice machine.
2004-2005

• Bailey Interiors completes a most interesting project at the University of NSW, which requires the design and moulding of ceiling tiles replicating a very futuristic style. This is a truly remarkable job, as most people at the start say that this type of style is not possible.
2005-2006

• Bailey Interiors continues to excel, completing the Qantas First Class Lounge at Sydney Airport. This job requires the manufacturing of ceiling tiles designed with a radius projecting two ways on the horizontal angle as well as the vertical angle. A huge challenge, but it was produced to such perfection that from this initial job, Bailey Interiors later completes similar work for Qantas in Melbourne.
2006-2007

• Bailey Interiors completes ornate and plaster works to Anita's Theatre at Thirroul. All this work is supervised under the direction of a heritage architect.
2007-2009

• Bailey Interiors completes reproduction of plaster ceilings at Ashton House at Elizabeth Bay. The house dates back to the 1890s and the ceilings are restored back to the original.
• Bailey Interiors produces a new acoustical ceiling panel which is used in the Building Educational Revolution Program.
2009-2010

• Bailey Interiors completes restoration of plasterwork of a house at Newtown, which involves the full restoration of an old plaster ceiling.
• Bailey Interiors installs a new, state-of-the-art plaster vaulted ceiling in a new home at Drummoyne in Sydney. The design involves purpose made arches incorporated in the plastervault. All of this is fabricated in our factory at Mortdale.
• Bailey Interiors supplies exclusive plasterwork to the Qantas Airways Lounge at Canberra Airport.
Bailey Interiors continues to be selected by builders, designers, architects and renovators who are looking for an impeccable decorative plaster feature for their building project. Bailey Interiors is the smart choice for all types of decorative plaster ceilings, plasterwork, architectural mouldings, plaster cornice, decorative cornice (including Victorian cornices), architectural columns, ceiling domes, archways, ceiling panels, plaster corbels, plaster fireplaces, ceiling vents, acoustic panels and acoustic tiles.
Contact us
today to discover how Bailey Interiors can create a perfect design, installation and finish for your next decorative plaster project.